Bag a booster this Black Friday
Thursday, 24 November 2022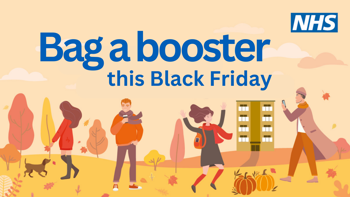 Bag a booster this Black Friday
This Black Friday, you can bag a booster as well as a bargain, when you're out Christmas shopping across Cheshire and Merseyside.
As thousands of bargain hunters hit the high street on Friday, 25 November, and throughout the weekend to grab the best deals, many will be able to grab a jab as well at one of the walk-in and pop up vaccination sites conveniently located in and around popular shopping areas.
The NHS and its partners in Cheshire and Merseyside have delivered more than 720,000 seasonal boosters since the autumn campaign began, and in an effort to keep people safe from COVID-19 heading into the winter months, vaccination teams will be busy jabbing throughout what is expected to be one of the busiest shopping weekends of the year.
Anyone aged 50 and over, pregnant women, those with weakened immune systems, unpaid carers and frontline health and social care workers are eligible for the autumn booster, as long as it has been three months since their last dose of the vaccine.
Vaccination teams will be out and about across the region, and able to offer the autumn booster to anyone who is eligible and wants to take up the offer. And, if you have yet to have a first, second or booster jab, you will be able to get up to date without even having to book an appointment at locations such as:
Ellesmere Port – Friday 25 (10.00-15.00) The Port Arcades Shopping Centre, Mercer Way
Liverpool – Friday 25 (09.00 – 17.00), Saturday 26 (10.00 – 15.00) and Sunday 27 (10.00 -15.00) - vaccination centre at Pier Head in Liverpool city centre – conveniently located near Liverpool ONE
Sefton – Saturday 26 - Living Well bus Morrison's in Maghull– offering autumn boosters as well as any other missed Covid jab doses.
Warrington - Friday 25 and Saturday 26 - Everest pop-up pharmacy, Birchwood Shopping Centre,  offering vaccines to eligible people aged16+
Wirral – Friday 25 (10.00 – 16.00) Cherry Tree Shopping Centre, 6-8 Cherry Square, Liscard, Wallasey CH44 5XU -1st and 2nd dose for everyone aged 5+ and autumn booster doses for those who are eligible.
Keeping up-to-date with your COVID-19 vaccinations is the best way to protect yourself, your friends and your loved ones from catching COVID-19 and potentially becoming very unwell.
Prof Rowan Pritchard-Jones, Medical Director for NHS Cheshire and Merseyside, said: "We're making steady progress with the rollout of the autumn booster across Cheshire and Merseyside and continue to encourage eligible people to come forward for their vaccination as soon as possible.
"As we head into the winter months, traditionally a time when we are indoors more, respiratory illnesses, including COVID-19, spread more easily from person to person. The vaccine is still the best way to protect yourself and others.  If you have not yet been able to take up the offer, please visit one of the vaccination clinics while you're out shopping this weekend."
Find out more about walk-in vaccination clinics in your area: Find a walk-in coronavirus (COVID-19) vaccination site - NHS (www.nhs.uk)