Barnardo's to help improve children's physical and mental health through launch of new Collaborative.
Thursday, 16 February 2023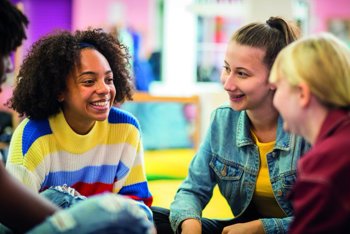 Cheshire and Merseyside's Integrated Care System (ICS) has joined a Collaborative with the UK's largest children's charity, Barnardo's, and the UCL Institute of Health Equity (IHE) to improve the health of children and young people in the area and ensure they have a say on how services are run in their communities.
NHS Cheshire and Merseyside will be working with Barnardo's and the UCL IHE over the next three years to devise and co-design a Children and Young People's Health Equity Framework. This will set out new and innovative ways to overcome the barriers which can prevent children and young people from having a basic level of physical health and mental wellbeing.
The three organisations will work together to develop new tools, resources and programmes to provide practical solutions to ensure children and young people in the region are not held back by social and environmental factors which can affect health. This includes income, housing or educational status.
Rukshana Kapasi, Director of Health for Barnardo's, said: "We are delighted to be launching this pioneering Collaborative to address the barriers which people face in order to achieve good physical and mental health. We have long known that poor health at a young age can have a negative impact on people's opportunities in later life. The current pressures on the NHS, alongside the cost-of-living crisis, is just making matters worse.
"Through this Collaborative, we hope to identify and provide practical solutions to these issues in a way which embeds the voices of children and young people into all we do. We look forward to helping to ensure that children and young people can any overcome negative circumstances they may be born into and  enjoy happy and healthy futures."
Barnardo's champions children and young people to ensure they have the best possible start in life by offering services throughout the UK which are tailored to meet specific needs. Cheshire and Merseyside's ICS was chosen by Barnardo's out of 16 applicants from across the country to be part of its new Collaborative.
In Cheshire and Merseyside, over 67,0000 children under 16 live in low-income families. In some parts of the region, this can be up to 20% of all the children and young people who live in that area. In addition, a high number of children qualify for free school meals due to their incomes – in some areas this can be double the average for England.
This inequality has a huge impact on physical and mental health including poor educational attainment, high rates of childhood obesity, high hospital admissions for asthma and many children going into care.
Raj Jain, Chair of NHS Cheshire and Merseyside Integrated Care Board, said: "We are excited to be working with Barnardo's and the Institute for Health Equity to tackle the unfair and unjust differences that are behind poor health and limited life outcomes for the children, young people and families in our community.
"Working with our young people will ensure that the people in the region are able to experience happier and healthier childhoods to put in place strong foundations for later life."
Kath O'Dwyer, Chair of Beyond (Cheshire and Merseyside's Children's Transformation Programme) and Chief Executive of St Helen's Council, added: "The health inequalities experienced by our population are long-standing. They have been exacerbated by the cost-of-living crisis and the ongoing impact of the Covid pandemic, especially as our population experienced longer lockdowns so children were out of formal education for extended periods of time.
"This Collaborative places the child's voice at the centre of our work to create a legacy to improve young lives and their chances in later life. By using their insight, we can target resources and develop effective ways to benefit the populations who are most in need."
The Collaborative, which brings together senior stakeholders from across the healthcare sector 1, will be chaired by Professor Sir Michael Marmot. He is the Director of the UCL Institute of Health Equity and has been a leading authority on health inequalities for more than 50 years.
Professor Sir Michael Marmot said: "Long-term increases in child poverty, the cost-of-living crisis and the unaffordability of childcare all work to make a healthy childhood more elusive for some families. Within these circumstances, committed action by and Integrated Care Systems at a local level will make a difference to children's lives now as well as their prospects for the future. Our aim is to provide evidence of what works so that it can change practice and improve health and well-being of all our children."
For more information visit: Children and Young People's Health Equity Collaborative | Barnardo's (barnardos.org.uk
​​​​​​​1- The Collaborative brings together:
Prof Sir Michael Marmot, Director, Institute of Health Equity Co-Chair

Rukshana Kapasi, Director of Health, Barnardo's, Co-Chair

Lisa Stalley-Green, Deputy CEO and CNO, SRO Birmingham and Solihull ICS

Christine Douglas, Director of Nursing and Care, SRO Cheshire and Merseyside ICS

Will Cleary-Gray, Executive Director of Strategy and Partnerships, SRO South Yorkshire ICS

Dr Bola Owolabi, Director of Health Inequalities Improvement, NHS England 

Dr Camilla Kingdon, President Royal College of Paediatrics and Child Health

Dr Habib Naqvi, Director, Race and Health Observatory

Dr Matthew Clarke / Simon Kenny, Children and Young People, NHS England

Richard Owen, Deputy Director CYP Transformation, NHS England

Wendy Nicholson, Deputy Chief Nurse, Office for Health Improvement and Disparities

Sally Burlington, Director of Policy, Local Government Association

Igraine Rhodes, Head of Programmes, EE Foundation

Martin Dennys, Programme Director, NHS Digital

Stephen Oversby, Director of Children's Services, Barnardo's