Digital and Data Strategy underlines commitment to turn 'intelligence into action'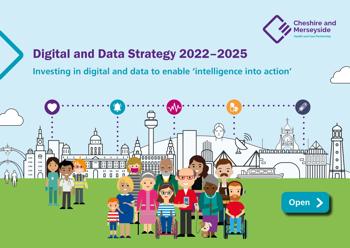 NHS Cheshire and Merseyside has published a wide-ranging Digital and Data Strategy which underlines how digital infrastructure, systems and services will be developed to help benefit patients, clinicians, NHS staff and members of the public.
The strategy explains how NHS digital and data teams will work towards a shared vision where residents are empowered to manage their own health and wellbeing, staff are confident in using digital and data solutions and insight is used to support care planning to adapt to the changing needs of our population.
Medical Director Prof Rowan Pritchard-Jones said: "Our digital and data work will be care profession led and informed to drive the best health and care outcomes for the population we serve.
"This Digital and Data strategy describes an ambition to improve the health and wellbeing of our region right now and into the long term by weaving our digital and data infrastructure, systems and services throughout the pathways of care we provide.
"This requires 'levelling up' our digital and data infrastructure to help address the significant inequalities so clearly faced by parts of our population and ensure we successfully support all we serve. We are committed to turning 'Intelligence into Action'."