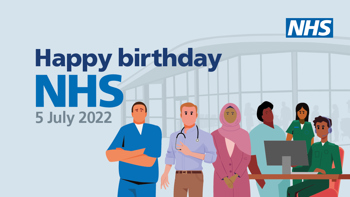 On 5 July, the NHS will mark 74 years of service. This milestone will present us with opportunities to showcase how the NHS has innovated and adapted to meet the changing needs of each successive generation.
As part of the birthday celebrations, NHS Charities Together is asking NHS Trusts, organisations, and charities across the UK to take part in the biggest NHS Big Tea ever. This gives NHS staff, patients and communities a chance to come together for a moment of thanks after what has been a challenging couple of years, and to raise money to help the NHS go that bit further for our staff and patients.
Over the last two years NHS Charities Together have funded over 600 projects in every Trust and Health Board across the UK to support staff, patients and volunteers from counselling and wellbeing rooms to specialist equipment and training for volunteers.
You can play a role in supporting the NHS in this birthday year, simply visit www.nhscharitiestogether.co.uk for further information.