Healthier Planet, Healthier People - NHS exhibition at the Museum of Liverpool
Wednesday, 8 February 2023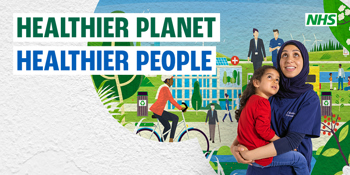 Throughout this month, visitors to the Museum of Liverpool will be able to see a collection of photos and film footage showcasing greener healthcare initiatives from across the region.
The waterfront museum, which welcomes more than 800,000 visitors from around the world annually, will display Healthier Planet, Healthier People in its atrium - a digital piece put together by NHS Cheshire and Merseyside - as visitors arrive at the museum.
Across Cheshire and Merseyside, people are taking action to help create a more sustainable NHS, and this latest exhibition at the Museum of Liverpool celebrates some of the activities that contribute toward the NHS's vision of net zero carbon emissions.
Dave Sweeney, Associate Director of Partnerships and Sustainability for NHS Cheshire and Merseyside said: "The transition to net zero is fundamentally important to the future of the NHS, the population and the planet, which is why we are fully committed to delivering the promises outlined in our Green Plan in Cheshire and Merseyside.
"Healthier Planet, Healthier People, the exhibition currently on display at the Museum of Liverpool, is an excellent opportunity to see some of the fantastic ways we are starting to make a difference in the region."
In October 2020, the National Health Service (NHS) became the first health system in the world to commit to delivering net zero. This means improving healthcare while reducing harmful carbon emissions and investing in efforts that remove greenhouse gases from the atmosphere.
NHS Cheshire and Merseyside supports this vision through its Green Plan, which recognises that climate change and human health are inextricably linked, and looks at ways we can work together, as a system, to improve health now and for future generations.
Visitors to the exhibition will learn, for example, how birthing centres are using innovative technologies to break down exhaled nitrous oxide - a greenhouse gas 300x more potent than carbon dioxide - into harmless nitrogen and oxygen; how community teams are using electric bikes for home visits; and how NHS buildings will prioritise energy efficiency and sustainability as the system moves towards net zero.
There is also a feature on green spaces with the Nature Recovery Rangers, part of Liverpool University Hospitals NHS Foundation Trust, included in the digital exhibition.
Healthier Planet, Healthier People is on display until February 28th, 2023. There's more information about the national Greener NHS Programme at: Greener NHS (england.nhs.uk)