Landmark health inequalities report will "change lives for the better"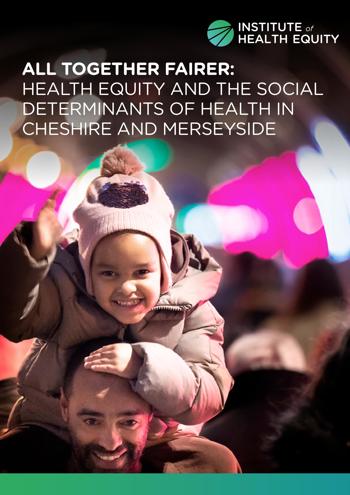 Professor Sir Michael Marmot, Director of the University College London Institute of Health Equity and leading voice on health inequalities, has published a landmark report on how public, private and third sector organisations in Cheshire and Merseyside can work together to tackle health inequalities.
The report – All Together Fairer – has been written by Sir Michael and his team of researchers in partnership with Cheshire and Merseyside's local authorities, and sets out measurable actions for each area, as well as the sub-region as a whole, to create a fairer, equitable society.
Some of the recommendations, which have been broken down into one-year and five-year goals, along with related indicators to measure outcomes, include action on young peoples' services, wages, housing, racism, poverty and much more.
They are influenced heavily by the Marmot Principles, eight policy areas defined by Sir Michael, which include early years development, employment, living standards, communities, ill-health prevention, discrimination, and environmental sustainability.
Information:
Sir Michael Marmot, said: "The Covid-19 pandemic exacerbated existing inequalities. Life was harder for those living in deprivation. The rising cost-of-living is a social crisis which will have further damaging impact on peoples' physical and mental health. Much can happen at local level, as shown by the eagerness of colleagues in Cheshire and Merseyside to grasp this issue with both hands and do everything in their power to changes lives for the better.
"It is shocking that a third of residents in Cheshire and Merseyside live in the most deprived 20 per cent neighbourhoods in England. It is vital that local leaders and partners do not accept this as destiny. The kind of large-scale change needed cannot be delivered by just one organisation or group of people, which is why I'm delighted to see how closely the public, private and third sectors work together in the sub-region, which will prove most helpful when delivering the schemes and initiatives set out in our report."
Raj Jain, Chair of NHS Cheshire and Merseyside, said: "The launch of this ground breaking report and the imminent integration of health and care services across Cheshire and Merseyside mean we are now in a position to make a real difference for the people who live and work in our area.
"It was very encouraging to see around 500 people join the launch of this much awaited report yesterday. It will help guide us through the journey of positioning, creating, and improving services for our people while tackling some of the current inequality in health and care across our Places."
Councillor Louise Gittins, Leader of Cheshire West and Chester Council, and Cabinet Member of Poverty and Wellbeing, said: "I am confident that we will see a real change for our local people because of this work. Put simply, we cannot afford to fail. Continuing and worsening health inequalities are not inevitable and we want to make a difference, so that all local people in Cheshire and Merseyside live healthy and happy lives. No one organisation has all the answers or resources, which is why we can only really improve the health of our population by working together."
Councillor Ian Moncur, Cabinet Member for Health and Wellbeing at Sefton Council, said: "I know for a fact that there are committed public servants and leaders in our councils and across our public sector partners who want to tackle the causes of poor health, who will do everything they can to make these recommendations a reality. Too many people do not have access to the opportunities, or resources, they need to fully thrive and that is what must change."