Launch of Lower my Drinking campaign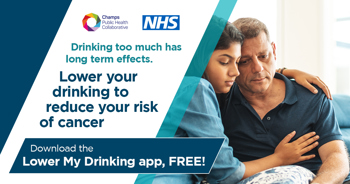 The Lower my Drinking campaign is an opportunity for you to help anyone, who lives or works in Cheshire and Merseyside, to manage their drinking habits to a safer level.
The campaign emphasises that the Lower My Drinking app not only guides you to set your drinking goal, but helps you achieve it too. The use of videos, featuring health professionals, provides authenticity for the campaign in Cheshire and Merseyside. The emphasis remains on helping people lower their drinking before it impacts their health in the long run.
Lower My Drinking  - Apps on Apple App Store
Lower My Drinking – Apps on Google Play