New health and care apps platform launched across Cheshire and Merseyside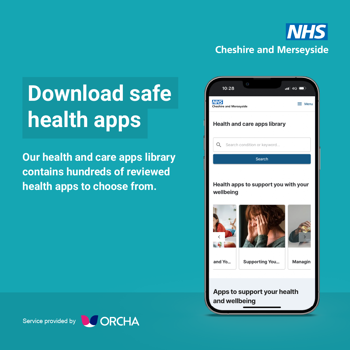 Health and care apps can be used to help manage and recover from a huge range of mental and physical health issues, but there are hundreds of thousands of health apps out there, and not all of them are safe - so where do you find trusted health apps? We now have the answer.
NHS Cheshire and Merseyside has built a Health App Library where you can find apps to help you manage your health. You can access the library at: cheshireandmerseyside.orchahealth.com
All of the apps in the library have been assessed by The Organisation for the Review of Care and Health Apps (ORCHA) against 350+ safety criteria. ORCHA has found that only 20% of health apps are safe and easy to use.
You can use this Health App Library whenever you want to find a health or care app to support you with your health and wellbeing. Health apps can help you:
Get fitter
Learn mindfulness or relaxation techniques
Change your smoking or drinking habits.
Gain healthy habits by helping you to create daily plans and track your progress
Manage existing health conditions such as diabetes, asthma and injuries.
You can read detailed information about each app or digital health product. ORCHA has come up with a way to test apps and find out:
What the app can help you with, such as losing weight, managing diabetes or keeping track of your prescriptions
Who can use the app, such as adults, children or carers
How easy the app is to use
How safe your private information is
Who made the app, and if they included a health or care professional in the process
ORCHA tests every health and care app using the same set of rules to make sure the process is fair, and all apps are assessed equally. 
When there is a new version of an app, ORCHA will test it again to make sure it's just as good or even better than it was before. This means all the apps in the library are always up to date.
You can also use the library to search health apps you are already using, to find out more about how they work. You can share this library with your family and friends to help support them with their health too. Start now: cheshireandmerseyside.orchahealth.com