New mental health service launched for Warrington schools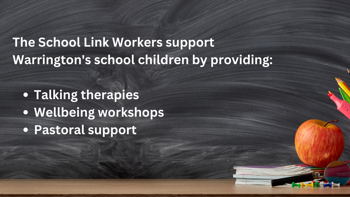 Mersey Care NHS Foundation Trust is supporting a new service to improve children and young people's emotional and mental health across all schools in Warrington.  
The Schools Link Mental Health Team is hosted by Culcheth High School.
The team work directly with children, young people and families, offering therapeutic engagement, and evidence-based informed approaches.
The support they offer includes talking therapies, wellbeing workshops and pastoral support. The Mersey Care Mental Health Support Team clinically supervise the team and offer local induction and training.
The team, which helps children to build resilience by giving them the skills to help them take care of their mental wellbeing, sits alongside and complements the existing mental health support that schools have access to, including the Mental Health Support Team and the Child and Adolescent Mental Health Service.
Clare, who is 15 and in her final year at high school, tells us how the team helped her deal with her anxiety following family illness and how she managed after COVID: "It's been a few weeks now since my final session and I've continued to practice my strategies and use the plan we created. I know that managing my anxiety isn't going to be easy but now I've got the skills to help."
Chris Hunt, Head Teacher at Culcheth High School, said: "The support from the professionals from Mersey Care's Mental Health Support Teams that is being provided to our school mental health leads is vital to support children and young people in spotting the early signs and prevention of mental health problems."
Jane Rooney Head teacher at Statham Primary added: "The team is helping our children to build resilience and giving us the skills to help them take care of their mental wellbeing."
Funded by NHS Cheshire and Merseyside as part of Warrington Together's Starting Well plan, the programme has been supported through a partnership between the NHS, Warrington Borough Council, and Warrington's schools, with partners looking to grow and develop the Schools Link Mental Health Team over the coming years.
The programme builds on existing plans to improve access to mental health support and responds to a recent Healthwatch Warrington report on children's mental health services across the borough.
Carl Marsh, NHS Cheshire and Merseyside's Place Director for Warrington, said: "We know how important it is that young people have access to mental health support as early as possible and we're committed to working with partners across the system to do more to improve the support offer available.
"As one team underneath the Warrington Together umbrella, NHS organisations, Warrington Borough Council, GP practices, and voluntary organisations are working together to join up services, support the health and care of our community, share ideas and resources, and improve how we access health and care in Warrington."
Warrington Borough Council's cabinet member for children's services, Cllr Sarah Hall, said: "This approach builds on the long-standing Future in Mind project in Warrington and supports the needs identified in the recent Healthwatch report to improve access to mental health support for both young people and professionals working in education.
"It's great to see schools already benefiting from having the team available to support them, and we look forward to the service being rolled out across more schools in Warrington in the near future."
Lisa Simpson, Clinical Service Manager for Children and Young People's Mental Health at Mersey Care, said: "This innovative and creative approach to care in Warrington, working as a system collaboratively with partners, is crucial to support children, young people and families and integrate care pathways for our young people."
To find out more information or to make a referral, contact Linsay Chesworth at LCH@culchethhigh.org.uk
To hear stories from local children, click here.