New Royal Liverpool University Hospital
Wednesday, 21 September 2022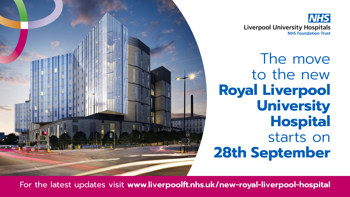 Liverpool University Hospitals NHS Foundation Trust (LUHFT) will begin its move to the new Royal Liverpool University Hospital on Wednesday 28 September.
This is a phased move which will take place across 24 days, meaning that some services will still be running from the old Royal Liverpool University Hospital until their move date and the new hospital will not be fully operational until the Emergency Department moves at the end of the 24th day.
The Trust will regularly update its website and social media channels with the latest move information and how the moves impact services, patients and visitors.
During the move, staff and volunteers will be on hand to assist with any queries or wayfinding.
A&E will remain at the old Royal until Thursday 20 October. Please continue to visit the current A&E department as usual and do not attend the new hospital for emergency care.
The trust's outpatient departments will be one of the first services to move in and from Tuesday 4 October, the new outpatient department will be operational. Patients will be notified in their appointment letters which clinic they should attend.
From 10 October, inpatient ward moves will commence and over the next few weeks LUHFT will be providing updates on their website in relation to when specific wards will be moving and visiting arrangements for patients.
Staff and volunteers will also be on hand to assist with any queries or wayfinding.
For more information and the latest updates on the move visit the website or follow the trust on Twitter, Facebook or Instagram.