NHS Cheshire and Merseyside urge people to get boosted ahead of Christmas
Thursday, 8 December 2022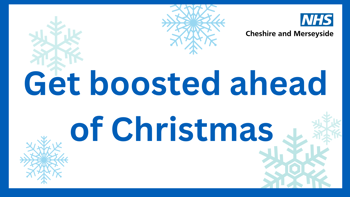 Two years on since the NHS delivered the world's first covid jab, kickstarting the most successful vaccine programme in our history, health leaders in Cheshire and Merseyside are calling on the public to get boosted ahead of Christmas.
The autumn campaign, which started just three months ago has seen over 750,000 autumn doses delivered across the region and is the latest phase of the biggest and fastest vaccination programme in NHS history, aimed at boosting the protection of those most vulnerable from becoming seriously unwell with COVID-19.
Anyone aged 50 and over, pregnant women, those with weakened immune systems, unpaid carers and frontline health and social care workers are eligible for an autumn booster dose, as long as it has been three months since their last dose of the vaccine.
The NHS in Cheshire and Merseyside is making the vaccine as accessible as possible in the run up to Christmas, with a range of pop up and mobile clinics taking the vaccine out into communities, alongside established sites run by general practice and community pharmacy teams in shopping and other community locations around the region. 
Prof Rowan Pritchard-Jones, Medical Director for NHS Cheshire and Merseyside, has urged people to come forward for their vaccine ahead of the Christmas and New Year period.
He said: "With temperatures dropping and Christmas fast approaching, now is the ideal time to get vaccinated to ensure you have the best protection against serious illness from covid.
"I encourage anyone eligible that has yet to take up the autumn booster offer, or even the offer of a first or second dose, to come forward as soon as possible. The vaccine is the best protection for yourself and your loved ones.  Don't let your festive celebrations be spoiled by illness."
It's never too late to get any dose of the vaccine, if you're yet to have a first, second or booster dose, you can come forward at any time, to protect yourself and your loved ones from becoming ill with COVID-19.
You can book a vaccination appointment on the National Booking Service: www.nhs.uk/conditions/coronavirus-covid-19/coronavirus-vaccination/book-coronavirus-vaccination/ or you can find a local walk-in site, visit: www.nhs.uk/conditions/coronavirus-covid-19/coronavirus-vaccination/find-a-walk-in-coronavirus-covid-19-vaccination-site/.