Over 50s can now book Covid boosters and flu jabs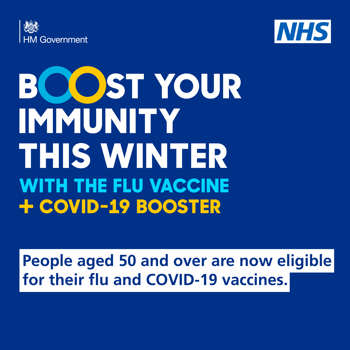 Everyone aged 50 and over can now book their autumn Covid-19 booster and flu vaccine.
The National Booking Service opened for those aged 50-64 on Friday 14 October to book their Covid-19 booster.
Who can get a COVID-19 vaccine
Everyone aged 5 (on or before 31 August 2022) and over can get a 1st and 2nd dose of the COVID-19 vaccine.
People aged 16 and over, and some children aged 12 to 15, can also get a booster dose.
People aged 5 and over who had a severely weakened immune system when they had their 1st or 2nd dose will be offered an additional primary dose (3rd dose) before any booster doses.
Some people, including those aged 50 years or over, those at higher risk or who are pregnant, and frontline health and social care workers, will be offered a seasonal booster (autumn booster).