Pregnant women urged to get vaccinated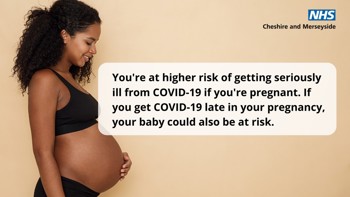 Expectant mums, and those thinking of becoming pregnant, in Cheshire and Merseyside are being urged to get fully vaccinated against Covid-19.
Although the overall risk from Covid-19 in pregnant women and their new babies is low, the virus is still out there and can still make some women seriously unwell, particularly in later pregnancy.
Being vaccinated is still the best way of getting protected against the virus and health experts in Cheshire and Merseyside are urging more women to come forward - as latest figures show that around 30% of pregnant women in the area are not yet vaccinated.
Medical Director of NHS Cheshire and Merseyside, Rowan Pritchard Jones, said: "Sadly we have seen a number of cases where unvaccinated women and their babies have become seriously ill or died of Covid-19 during pregnancy.
"The vaccine provides high levels of protection and both the Royal College of Obstetrics and Gynaecology (RCOG) and the Royal College of Midwives (RCM) recommend vaccination as one of the best defences against severe infection.
"We know there is enough to worry about when you are expecting a baby or thinking of becoming pregnant. But as we continue to live with Covid, getting vaccinated, or ensuring you are fully up to date with your doses should be towards the top of the list.
"Covid is still prevalent, and in most cases now only gives people a mild illness, but pregnant women are more susceptible to serious illness and that is why we are asking them to come forward as soon as possible."
A review of the latest evidence shows that vaccination reduced the risk of stillbirth by 15% and provides 89.5% protection against Covid-19 infection within a week of the second dose.
Covid and Vaccination Director for NHS Cheshire and Merseyside, Jayne Wood, added: "In spite of the known benefits we still see low numbers of uptake among pregnant women in many areas of Cheshire and Merseyside, with an overall take-up rate among that cohort of only 70.5%.
"Vaccine hesitancy has been high among pregnant women since day one, and it is understandable that they will have had concerns early on. But it is worrying that so many have still not come forward for their vaccine.
"Data continues to show variations in Covid-19 vaccination uptake among women of child-bearing age and during the perinatal period. Uptake is lowest among women in Black African, and Black African Caribbean, Bangladeshi and Pakistani communities, and those living in the most deprived areas of Cheshire and Merseyside.
"We know that the vaccine provides important protection against the virus, and pregnant women who have not yet had all of the doses they need (including a booster dose) are encouraged to get it now."
Pregnant women can get their vaccinations at any point during pregnancy, or while breastfeeding. Vaccine centres operated throughout Cheshire and Merseyside, including a roving mobile service which is visiting some of the areas with the lowest uptake. Advice for all women of childbearing age, pregnant or breastfeeding, can be found here.
You can book an appointment or find your local vaccination service by calling 119 or online.