Protect yourself and your data during Eurovision 2023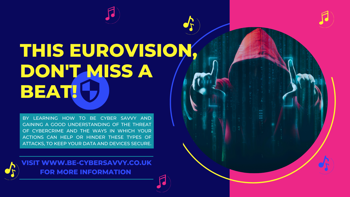 Make sure you #DontMissABeat during Eurovision 2023, by learning about the threat of cybercrime and how you can better protect yourself and others against cyber criminals.
Staff in health and social care settings across Cheshire and Merseyside, and those taking part in the Eurovision 2023 Song Contest celebrations in May, are set to benefit from a new cyber security awareness campaign that goes live this week, to help individuals to remain vigilant and to better protect themselves during this high-profile event.
The #DontMissABeat campaign has been developed by the Cheshire and Merseyside Integrated Care System's (ICS) Cyber Security Group. A group, that consists of public-sector organisations (including emergency, health care, and local council teams) who work together to manage and improve cyber security in a coordinated way. With the main aim of the campaign being to help health and care staff and those getting involved in Eurovision activities to gain an understanding of the threat of cybercrime and the ways in which their actions can help or hinder these types of attacks. Enabling them to protect themselves, the organisations they work for, and the event itself.
Speaking about the #DontMissABeat campaign, Matt Connor, Chair of the Cheshire and Merseyside Integrated Care System's Cyber Security Group said:
Information:
"Cybercriminals often use popular events, such as Eurovision, to try to take advantage of their victims by tricking them into performing actions they can exploit, such as clicking on a malicious link or giving away confidential information. Through launching the #DontMissABeat campaign we wanted to arm our health and social care staff in Cheshire and Merseyside as well as those who are taking part in Eurovision activities this year, or popular events like this, with an awareness of four key cyber security practices they can follow to help protect themselves, and others around them, from falling foul of cybercriminals.
"Furthermore, given that it's more likely that data breaches will originate from human error (such as a lapse in concentration or genuine mistake) than a technical failure, the campaign focuses on core actions that individuals can take to protect themselves, their data, and devices from cyberattacks. Including how to recognise and report phishing, how to apply the latest software updates, how to ensure they're using strong passwords, and how to enable multi-factor authentication. And we'd encourage anyone who finds our campaign resources useful to help us to spread the word more widely, to ensure that others #DontMissABeat and get the most out of this year's Eurovision celebrations."
This year the Eurovision song contest will be hosted by the city of Liverpool, after the United Kingdom was asked to hold the event on behalf of Ukraine, due to the country being unable to do so because of the Russian invasion. That said, health and care organisations and services across Cheshire and Merseyside, their staff, and individuals looking to take part in the Eurovision 2023 celebrations, are advised as a sensible and precautionary measure, to review the latest National Cyber Security Centre (NCSC) advice and take actions to improve their cyber security resilience. Especially as the NCSC has recently issued an alert warning of an emerging cyber threat to Critical National Infrastructure (CNI) organisations from state-aligned groups. An alert, which makes it even more advisable for individuals and organisations to boost their cyber defences, where possible and as soon as they're able, especially in the run up to major events which are often targeted by cybercriminals.
To test your current awareness of cybersecurity threats and improve any gaps in your knowledge, you can visit the Be Cyber Savvy website, where you'll find a wide range of information. Additionally, you'll also be able to download a range of campaign resources that the ICS has developed, featuring cyber security best-practice, which can be shared throughout before, during, and after Eurovision, to help amplify these key messages.