Residents urged to keep doing the 'Simple Things' this winter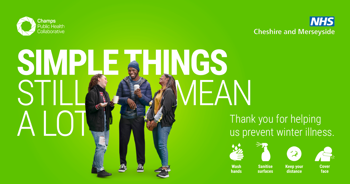 Cheshire and Merseyside's residents and businesses are being reminded of the 'Simple Things' they can do to help reduce the spread of infectious diseases over the winter period so they can keep themselves and others safe.
Simple Things is a brand new campaign that has been developed by the Champs Public Health Collaborative, a formal partnership of the nine public health teams in the subregion, with support from NHS Cheshire and Merseyside, the local Integrated Care Board.
The campaign's central message is that by carrying out simple behaviours, like washing hands, sanitising surfaces, covering faces when coughing or sneezing, and staying away when unwell, the spread of infectious diseases can be reduced and there will be less illness over the winter period.
Recently, the infectious disease most talked about has been COVID-19, but the campaign and these simple measures also applies to other diseases like flu, common colds and measles.
Thara Raj, Director of Public Health for Warrington and Lead Director for Health Protection in Cheshire and Merseyside, said: "I am delighted to see the launch of this vital campaign, which is coming just as the weather starts to turn and we are entering what it looking to be a difficult winter for the NHS and our residents.
"I really can't emphasise enough how much a difference these kinds of small behaviours can make when attempting to reduce the spread of infectious diseases, which is something that absolutely must happen to ensure our NHS doesn't become overwhelmed, and our people remain fit and healthy.
"During the pandemic people became more conscious of what they can do to limit the spread of diseases and all we're asking is that you continue to do these behaviours.
"A big part of the campaign is that we're also saying thank you to our residents for doing everything they have already done, and I can say with conviction that when we say this, we absolutely mean it. Our residents are diligent, sensible and responsible, and their actions will help us to get through this winter and reduce the numbers of people who become seriously unwell."
When developing Simple Things, the Collaborative took an insight-led approach to ensure the campaign was communicating the most appropriate messages in the most relevant way.
The insight found that the target audiences have a high understanding of the behaviours that minimise the spread of infectious diseases, but they would appreciate constructive reminders delivered in a thoughtful, positive way.
The insight also found that across all age groups, younger people are most concerned about new outbreaks of illnesses such as COVID-19 and flu. 29 per cent of 16 to 34 year olds surveyed said they are 'very concerned', compared with only 18 per cent of over 65s.
Those from an ethnic minority background were also found to be 'very concerned' about future outbreaks, with around a third (33 per cent) highlighting their feelings. Just 23 per cent of those white British people surveyed felt the same.
Overall, more than two thirds of people living across the region are worried about the spread of infectious diseases this winter.
The study, which was conducted among more than 1,000 people living across the region, also revealed how people were most likely to trust health advice from local clinicians.
Dr Paul Fitzsimmons, Medical Director at Warrington and Halton NHS Foundation Trust, said: "It's surprising that those who are statistically less likely to get seriously ill from COVID-19 and other winter illnesses are most concerned about outbreaks. We know that disruption to education and social lives, plus the negative mental health impacts of lockdown, have clearly left a lasting mark on our younger generations who are now fearful of what could happen again.
"As we approach winter – and the annual spike in cases of flu, measles and COVID-19 – this highlights the need for all of us to take the steps that can help to reduce the spread.
"For the last two winters, we have all been on high alert for COVID and how we stay safe – in fact, we have seen a reduction in the number of cases of other respiratory illnesses, largely due to our improved health habits. As such, it's essential that we maintain this level of awareness and continue to practice good hygiene as much as possible.
"We all know that these small preventative measures can make a big difference – we're encouraging everyone to keep doing these simple things to play their part and help reduce the spread of winter illnesses."
To learn more about Simple Things, please visit www.simplethings-nhs.com