Simple Things campaign shortlisted for two major awards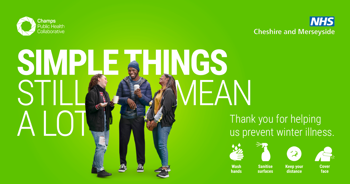 The Simple Things campaign has been shortlisted in two categories at the 2023 PR Moment awards - Best Use of Content and Best Integrated Campaign.

Developed by the Champs Public Health Collaborative, a formal partnership of the nine public health teams in the subregion, with support from NHS Cheshire and Merseyside, Simple Things is aimed at lowering the spread of infectious disease by encouraging people to carry out simple behaviours such as washing hands, sanitising surfaces, covering faces when coughing or sneezing and keeping your distance from others when unwell.

The campaign, which has recently completed its third phase, has gone from strength to strength, targeting the general public, businesses, schools and parents.
Throughout these phases the campaign has managed to achieve global news coverage across numerous media outlets, as well as gaining an impressive response across social media channels.

Prof Matthew Ashton, Director of Public Health for Liverpool and Lead Director for Communications and Social Marketing for the Champs Public Health Collaborative, said: "The Simple Things campaign outlines the importance of continuing to keep up the simple behaviours we all adopted during the COVID-19 pandemic, to lower the spread of infectious diseases through winter and beyond.

""The campaign has so far been a brilliant success and we hope this continues throughout its future phases. To be shortlisted for two major awards at the 2023 PR Moment awards is a fantastic achievement and I am delighted to hear the news. I would like to thank everyone who has played a role in making this campaign a success, in particular our health protection colleagues across Cheshire and Merseyside who have played an invaluable role in ensuring that our messages are accurate and impactful."

The 2023 PR Moment awards will be taking place on April 25th 2023. Find out more about Simple Things: www.simplethings-nhs.com