Towards Equity – reducing health inequality through our Green Plans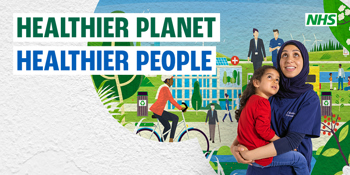 NHS Cheshire and Merseyside Chair Raj Jain will join Professor Sir Michael Marmot and others at a virtual event from 10am-midday on March 28th to analyse progress against regional Green Plans since July 2022.
The World Health Organisation has said that 'climate change is the greatest threat to public health'. Carbon emitting activities that cause it drive disease and health inequalities in the communities we serve and the staff we employ.
Health impacts from air pollution and extreme weather events affect more disadvantaged communities the most, causing poor physical and mental health and more demand on our already stretched health care systems.
Actions that will help to mitigate the impacts of climate change around food, transport and travel, buildings, air quality and inclusive economies bring co-benefits for the health of our communities, which could, in turn, reduce healthcare demand.
Health and care services that can develop/integrate low carbon models of care that emphasise prevention, self-management, personalised care and sustainable resource use will bring benefits for both planetary and human health.
Speakers include:
Dr Andrew Furber, Regional Director of Public Health and Senior Responsible Officer for the NW Greener NHS Programme

Professor Sir Michael Marmot, Professor of Epidemiology at University College London, Director of the UCL Institute of Health Equity, and Past President of the World Medical Association

Emma Moir, Deputy Director Operations & Delivery, Greener NHS

Raj Jain, Chair of NHS Cheshire & Merseyside Integrated Care

Shazad Sawar, Non Executive Director, NHS Greater Manchester Integrated Care

Alistair Rose, Director of Strategic Estates, Infrastructure and Sustainability Strategic Estates and Infrastructure Team
To register please follow this link: Towards equity – reducing health inequity through our Green Plans Tickets, Tue 28 Mar 2023 at 10:00 | Eventbrite